Brutal Gothic RPG 'Morbid: The Seven Acolytes' Is Out Now on Steam, Nintendo Switch, Xbox One, PS4
Updated: Dec 15, 2020
Test your mettle in an epic isometric action RPG filled with brutal boss encounters and a diverse world to explore
Publisher Merge Games, in collaboration with indie developer Still Running is excited to reveal the most gruesome take on the isometric souls-like genre, Morbid: The Seven Acolytes is OUT NOW on Steam, Xbox One, PlayStation 4 and Nintendo Switch!
You are the last Striver of Dibrom. Your duty, for which you have trained your entire life, is to defeat the Seven Acolytes and free the kingdom from the heavy yoke of their terror.
Retail versions of Morbid: The Seven Acolytes, including the deluxe Signature Edition, will also be available via the Signature Edition store on PlayStation 4 and Nintendo Switch on December 4th.
Morbid will have players testing their mettle with a wealth of bloodthirsty encounters and rich, absorbing lore. Challenging foes, mini-bosses, and memorable large-scale boss fights with fully orchestrated music are some of the ferocious encounters the player will experience throughout the world of Morbid.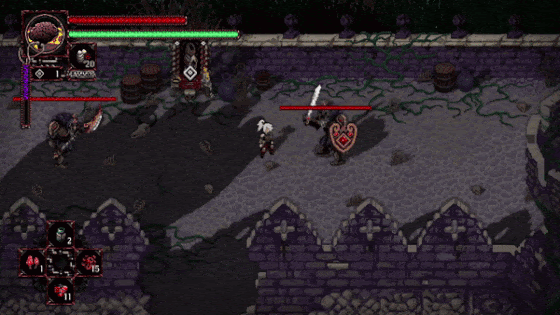 Features Overview
Experience epic, brutal boss encounters and explore a diverse array of environments

Perk levelling system with multiple ways to build your character

Deep, immersive lore with NPCs to meet throughout the world

Epic, fully orchestrated soundtrack

Health, Stamina and Sanity management is important as you traverse the world
Keep up to date with everything Merge Games-related at the following links;
Facebook - https://www.facebook.com/MergeGamesLtd/

Twitter - https://twitter.com/MergeGamesLtd

Web - https://www.mergegames.com/
About Merge Games
Merge is an independent video game publisher based in Manchester, UK. The company publishes interactive software worldwide for personal computers and video game consoles. Merge also specializes in publishing collectible games for retail for independent developers. More information about Merge products can be found at www.mergegames.com.
About Still Running
Still Running (Est. 2014) is an independent game studio based in Helsinki, Finland. Our dynamic multinational team consists of six talented people, each with their respective field of expertise. We aim to provide unforgettable gaming experiences, by developing outstanding games for all major platforms. We are all about creating fun, and having fun creating. Learn more and stay tuned by following us on social media, or visit www.stillrunning.fi.