Award-Winning Freestyle Motocross Game Urban Trial Tricky™ Deluxe Edition Coming
Prove Yourself as the Greatest Freestyle Motocross Rider in History by Pulling off the Wildest and Most Extreme Tricks Possible on Two Wheels
Fire up the engine and tighten the straps on your helmet, Urban Trial Tricky™ Deluxe Edition, the wacky Tony Hawk's Pro Skater-inspired freestyle motocross game from Tate Multimedia, is headed to Windows PC via Steam and GOG.com, Xbox One, and PlayStation 4 on July 22, 2021! Following a successful run on the Nintendo Switch™ — where the title won Gold prize in Best Nintendo Switch - Casual Game category at the NYX Game Awards — the cruisy, pick-up-and-play FMX title is ready to go "full send" on PC and consoles! Enjoy a buttery-smooth 60FPS freestyle extravaganza and combine freestyle tricks and aerial maneuvers to get the highest score and most ridiculous combos. Players can customize their bike and rider to look as extreme as the stunts they'll pull off in the game's 30+ levels across three single-player modes!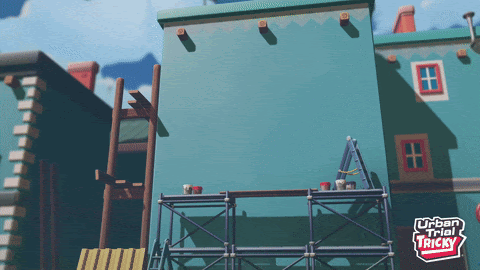 "Urban Trial Tricky is the perfect casual but rewarding FMX game, providing an addictive, engaging experience that can be enjoyed by anyone, no matter their skill level," said Magda Schwarzer, Marketing Manager at Tate Multimedia. "We're very excited to bring the game to PC and console players, and know they'll love the lively, endearing visuals and deceptively deep gameplay."
Urban Trial Tricky™ Deluxe Edition is set in a vibrant cartoon world filled to the brim with ramps and obstacles just screaming, "Hit me super fast and do something sick." Pull off a wild variety of spins and tricks that may or may not be possible in real life — not that we encourage you to find out! With a huge set of skins and accessories available for the perfect custom character and a highly competitive leaderboard, players can build the perfect avatar to show everyone else why they deserve the top podium spot as the gnarliest FMX rider on the planet!
Key Features of Urban Trial Tricky™ Deluxe Edition:
It's Tricky Tricky Tricky: It wouldn't be "Freestyle" motocross without the tricks, and Urban Trial Tricky™ Deluxe Edition features a deep set of stunts, spins, and sick grabs to experiment with

60 Frames of Fun Per Second: A slick and smooth experience awaits players looking to take their freestyle insanity to all new heights

Customize Your Kit: An extensive set of cool accessories and paint jobs provides players with a huge suite of options to make their rider look as good as they rip

Crush the Opposition: Online leaderboards keep the competition strong and will push players to ever more extreme combos and high-scores
Urban Trial Tricky™ Deluxe Edition will release on Windows PC via Steam and GOG.com, Xbox One, and PlayStation 4 on July 22, 2021. To keep up with all things Urban Trial Tricky™, follow the game on Twitter, Instagram, and Facebook
Tate Multimedia is a Polish independent developer and a leading game publisher in the area of electronic entertainment. Since 2000, Tate Multimedia has been successfully operating in most European and North American markets, as well as in Japan and China. Owing to games developed by Tate Multimedia and expertise in the gaming market, Tate Multimedia receives numerous accolades and is ranked high among game publishers worldwide with their suite of exciting titles and expertise in the gaming market.